Keep track of the important things with Always On reminders.
Your life goals, The Matrix release, deadlines... Create beautiful progress bars, timers and countdowns that are always visible on all your everyday devices. What better place to remind yourself about the things that matter?
On your iPhone's Home Screen.
On your iPhone's Lock Screen.
On your iPad.
And on your Apple Watch, too.
Oh! And on your Mac. 😉
Personalize your Home Screen with customizable timer widgets.
Create unique progress bars and countdowns customizing the templates, add the them to your Home Screen as a widget, and feel inspired by your progress!
Swiss Style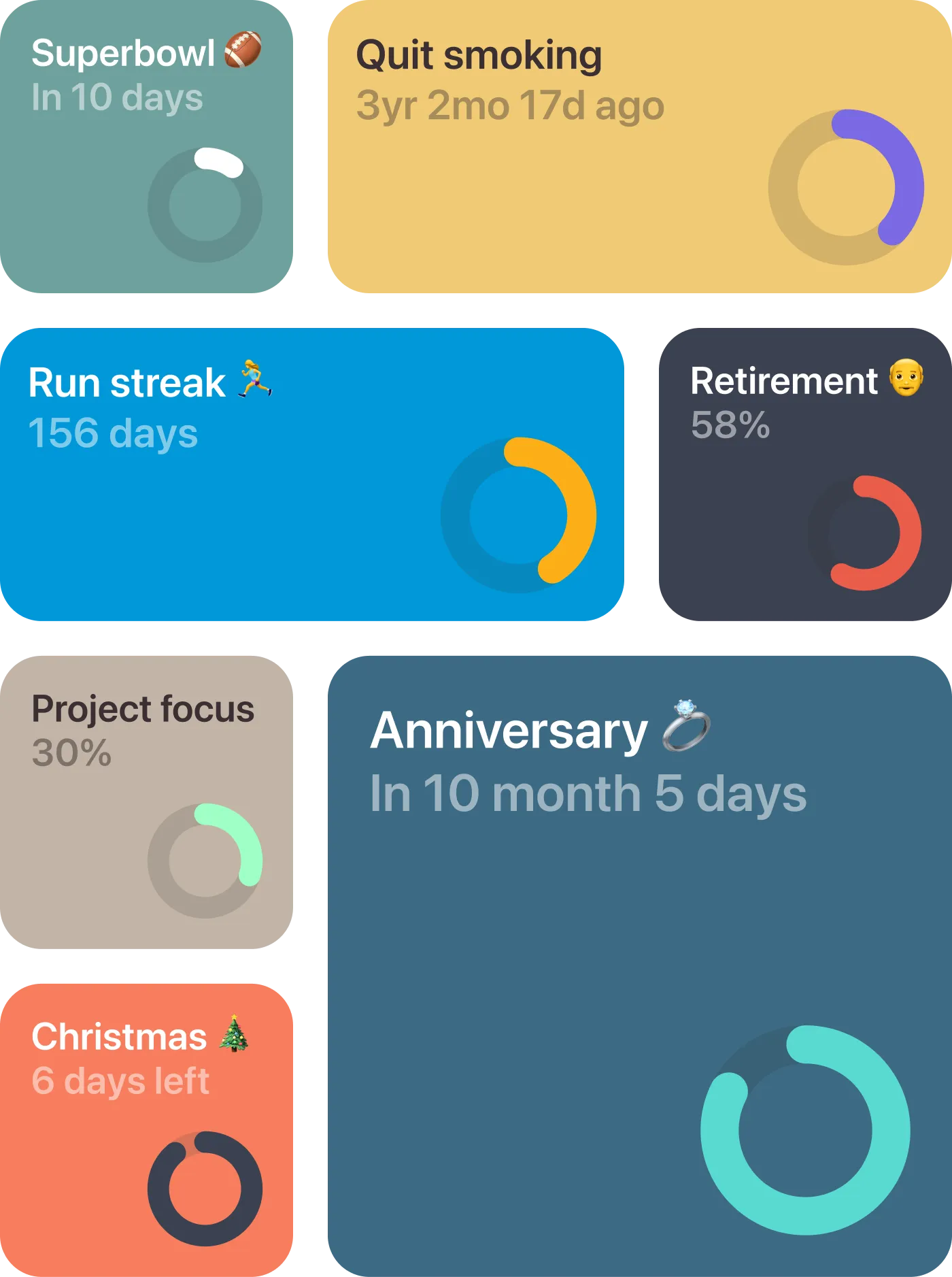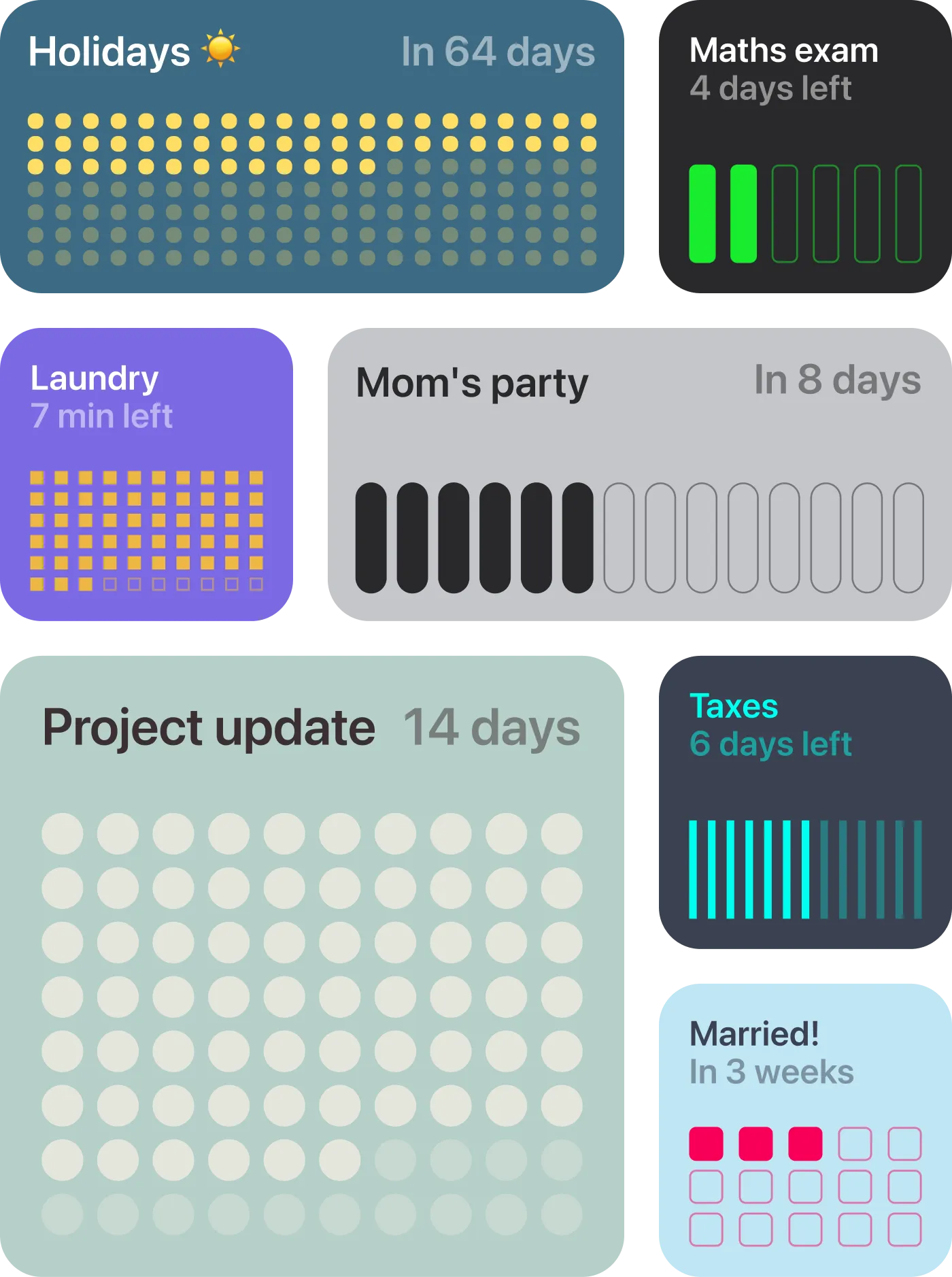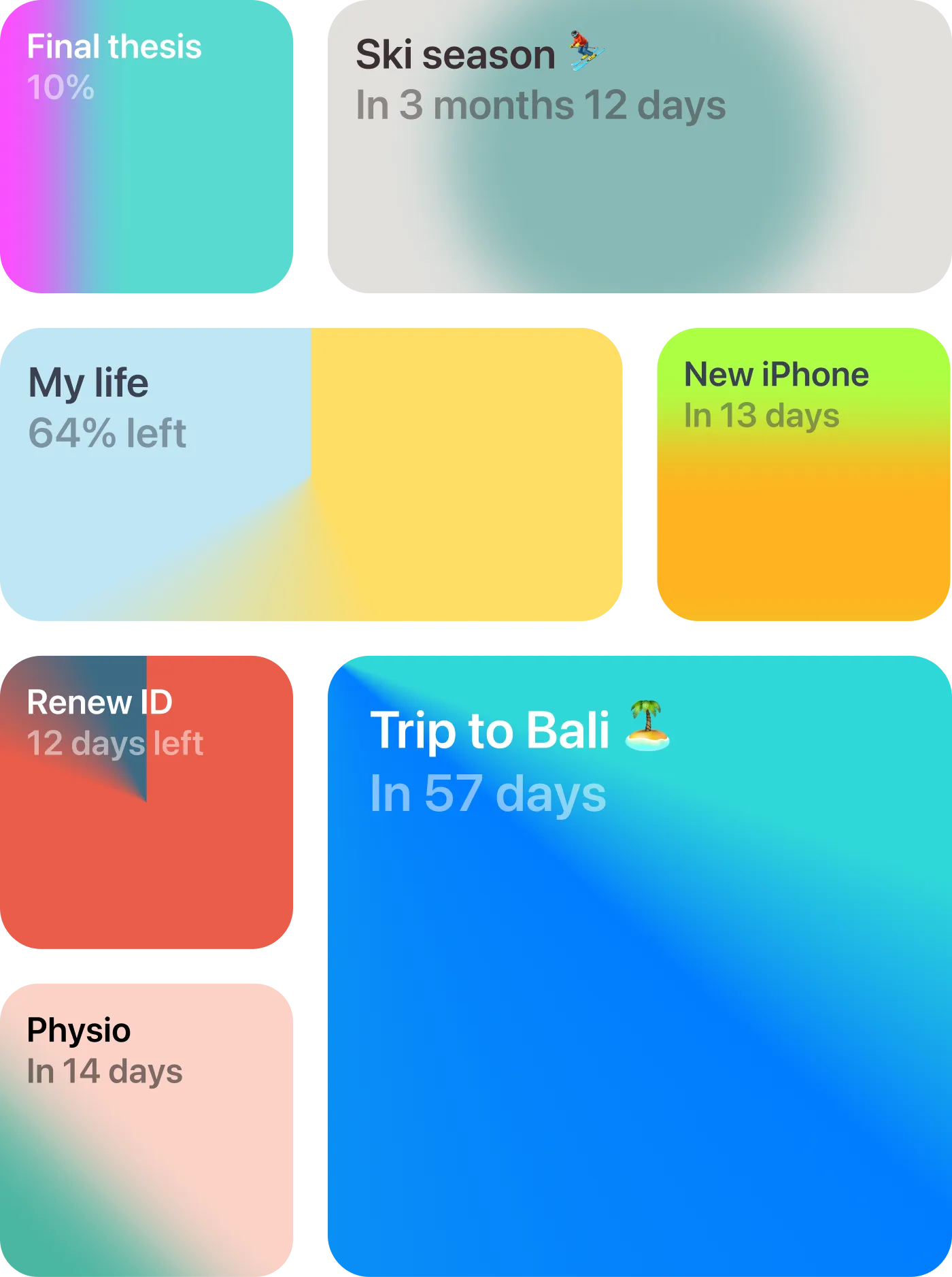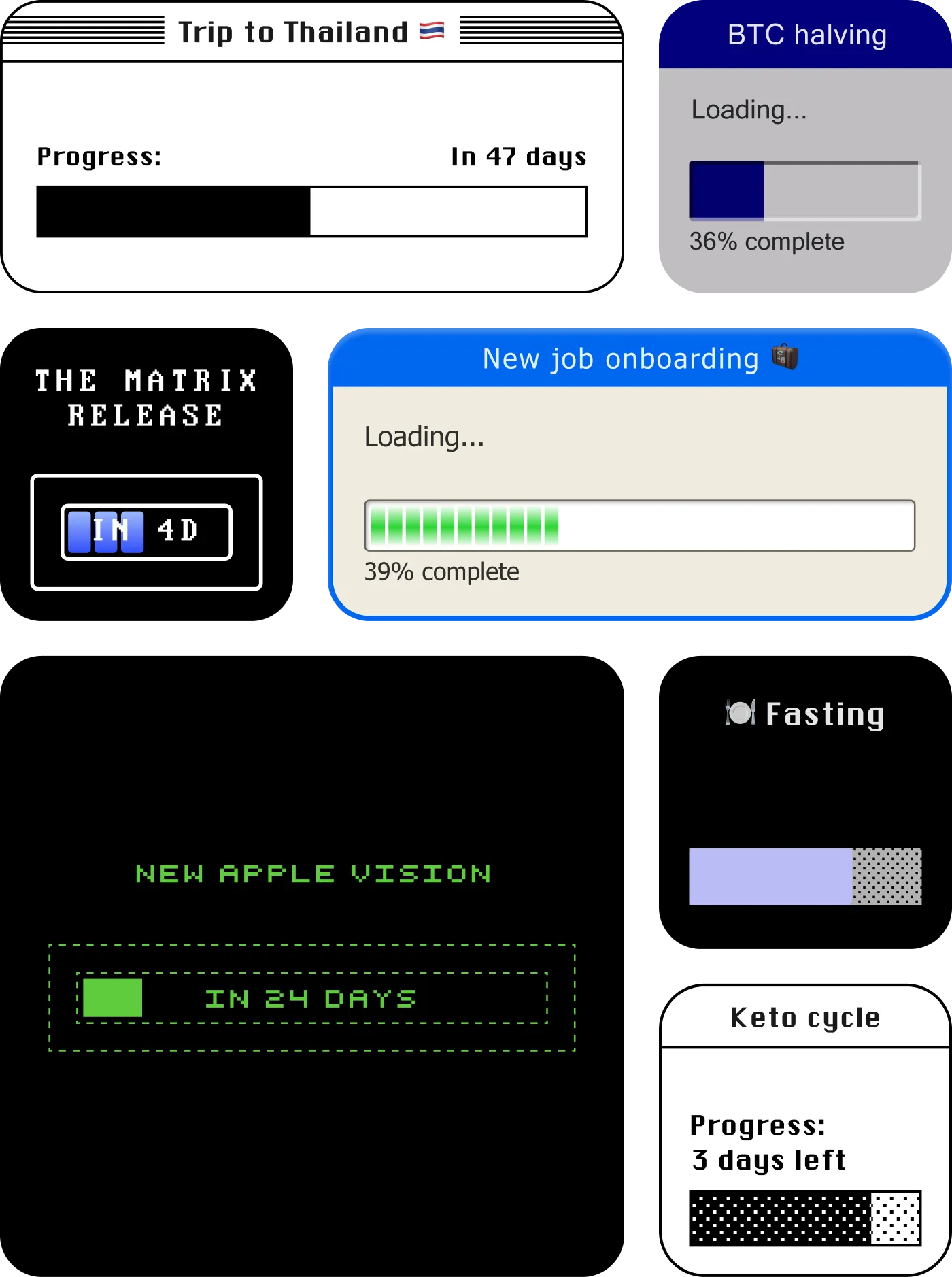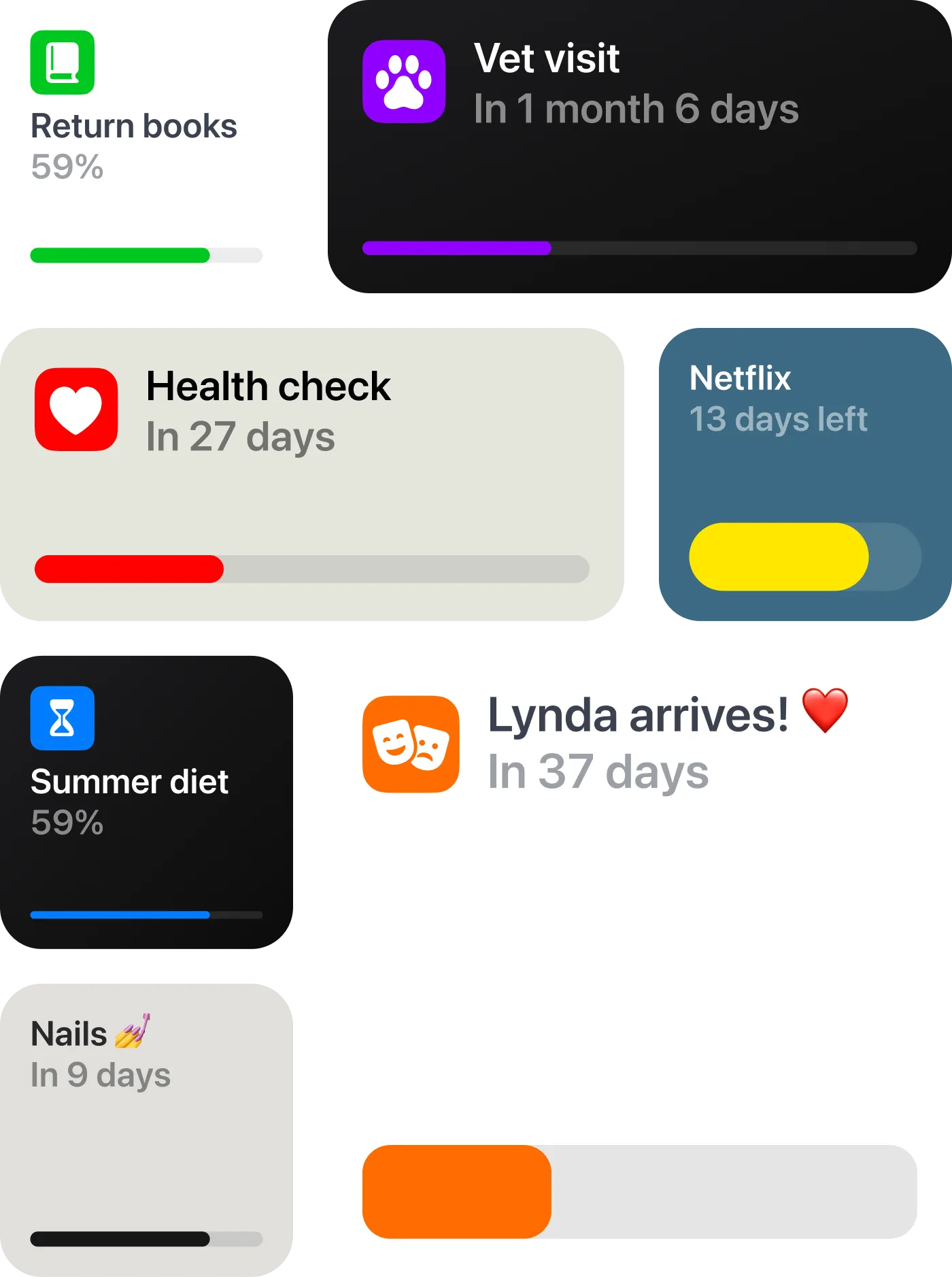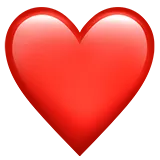 Our users love us!
Testimonials from our awesome users.
Beautifully Simple / Simply Beautiful
I'm using Pretty Progress to track my travels and to remind me to appreciate the moment I'm in (because it doesn't last forever). I like seeing the widget whenever I'm on my iPad; it's unobtrusive and minimal. It doesn't push itself on you - just provides the countdown reminder that you set. Good work on this app!
Asrutang
Simple and extensive
Was looking for a great app to add personal goals and deadlines. Really nice solution and great usability!
Edgar Kussberg
Recommended
Easily the most beautifully designed countdown widgets I could find on the App Store!
Dogend Jenkins
Finally!
I was looking for such an app for a really long time and it ticks all the boxes for me! There are a lot of alternatives (that even look similar) but in practice they're so far behind.
Miłosz Bolechowski
Looks Great
Love all the looks this gives, great customisation. Great support from the dev too, had a few issues and they helped sort super quick (turns out it was my user error !!!)
iMarkyP
Beautiful themes and very customisable
I love to remind myself of many things and the progress bar percentage looks great on my phone. My favourite is the gradient percentage and the retro windows styles.
Ollie Boyers
Simply the one countdown I need
Been using it for months and want to give a review cause im happy to have this friendly reminder on my phone. Helping me on many deadlines and important dates. Design is pretty much my style, easy to use, features are constantly improved, no ads. Me like this 😊 👍
Swadena
Great job
It's definitely the prettiest countdown / progress app out there
Native
Awesome!!!
I bought also the PRO! I am an iOS developer and I perfectly know the pain this developer went through to implement this app. IT'S AMAZING!!
AndreaSi
Great app for managing goals
Setting long term goals using this visually stunning interface is magical. Intuitive, simple to use, I'll be using this every day to achieve my dreams! 🥰
Davidsf14
The only app I use consistently
Beautiful countdown app ever created. Easy to use, so many great features such as countdown bars that you can choose from, you name your favourite bar this app has it.

What I like most about this app is that it looks incredibly nice when I added it to my home screen. So many beautiful colors I can use to remind me of my goals and deadlines.

I highly recommend this app to anyone who wants to keep things simple in life, if you are tired of writing things down on paper or your device to keep you on track look no further pretty progress is the best when comes down to countdown!
Saachinator
Pretty and useful
Top design with extensive customizability, very useful as glanceable widgets to tell progress of any kind. A+!
Aeon.x
Wonderful app
The design is great and super nice, I'm really happy with this app and I totally recommend it!
Lisaac FC
Love it!
Best progress/countdown up out there! I'm obsessed with it & use it for everything!
mikbthy
Simple. Beautiful. Easy.
Easily add a beautiful countdown or timer widget on your Home Screen.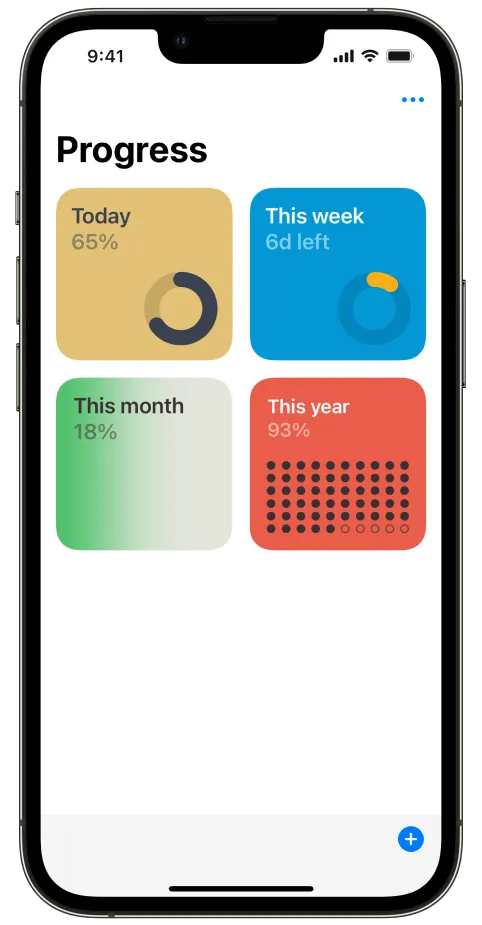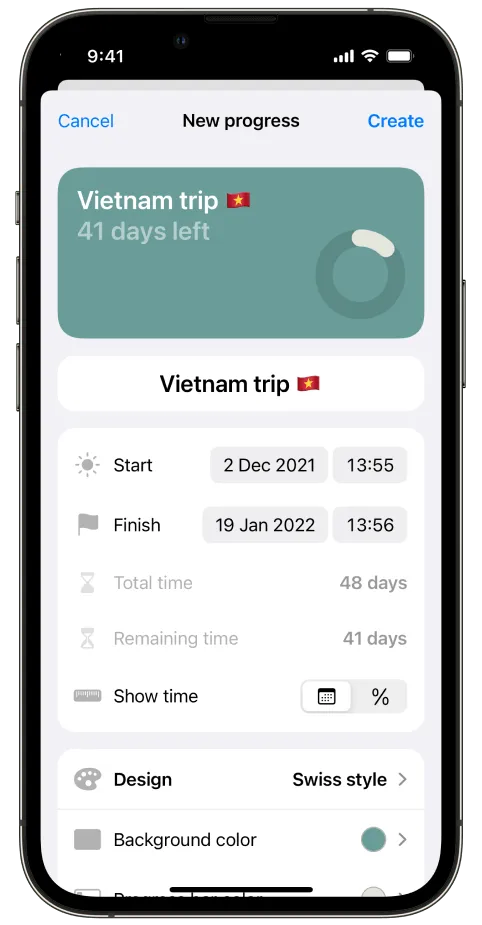 Create and customise your countdown. Start / end dates, name, design, colors...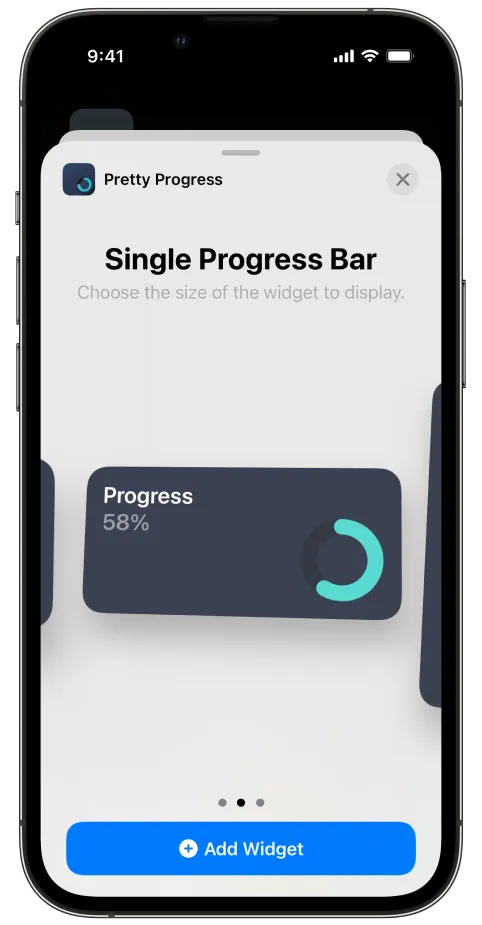 Long tap on your Home Screen, tap the (+) button and select Pretty Progress.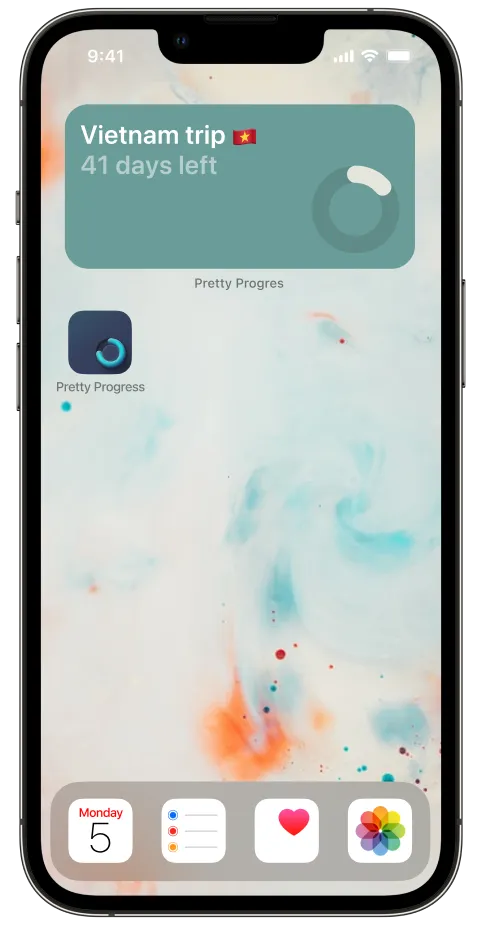 Add your widget and start tracking your progress on your Home Screen.
Coming soon...
We have some exciting upcoming features!
One widget.

Multiple progress.
One widget.

Multiple progress.
Track everything.
From money to books.
Track everything.

Track everything.
From money to books.
Android app.
Life beyond 🍎.
New themes.
More. More. More!

Android app.
Life beyond 🍎.